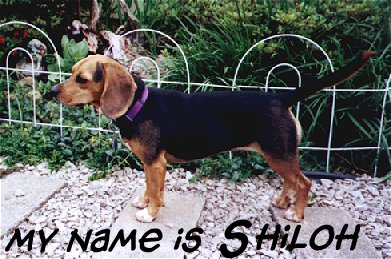 I am a beagle. My mom picked me out from a whole room full of puppies at a shelter. I was an older dog. Several people had wanted me, but I am very shy, so the people at the shelter wanted to make sure that I was adopted by a family who knew how to give TLC. I didn't know what that meant, but I think it meant that I needed to be spoiled with lots of love.
At first I would only sleep under things or in my kennel:
| | |
| --- | --- |
| | |
| This is me under my Mom's waterbed. | Here I am under a table in the den. |
| | |
| --- | --- |
| | Now, I am comfortable sleeping anywhere near my Mom, Dad, my sister Zoë, or my Boy-Michael. Michael has a sister named Ellyn. She is very sweet. She is in college and doesn't live here, but she comes over a lot to play with us! She has a boyfriend named Jeremy. He is funny! He can bark and make it sound JUST like me!!! Last month we all went on vacation to a beach and had SOO much fun!!! Here is a picture of them at a part of the beach called "DUCK" ...funny name for a place! |
Here is a picture of us back at home with Michael: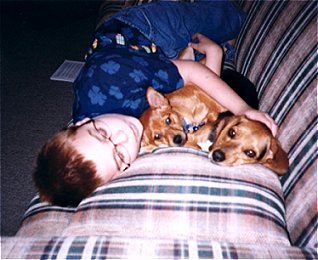 My sister Zoë is mostly miniature pinscher. She has her own webpage, too. You can visit her webpage by clicking here: Zoë's Page.
Zoë was here before I got here. She is very protective of me. She has helped me feel right at home! We are about the same size, I am a little older but, we share the SAME birthday!! Zoë came from the shelter, too. Since our Mom didn't know our real birthdays, she thought it would be nice to let us celebrate at the same time.

Here are some pictures of Zoë and me:
We each have a favorite stuffed animal. Mine is a mole. It sleeps with me at night and I carry it around with me during the day. Zoë's favorite animal is a monkey. She suckles her monkey. I think that she thinks it is her birth mother. Sweet Zoë.
| | |
| --- | --- |
| | |
| Here we are with our stuffed animals. I don't tell Zoë, but I think she looks kind of silly sucking a monkey's face! | This is a picture of us playing Wrestle Mania in the den. |
We have had several foster sisters and brothers. Look at them on this site:
Our Amazing Puppies

Here are some more pictures of me!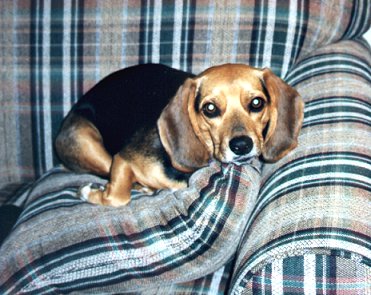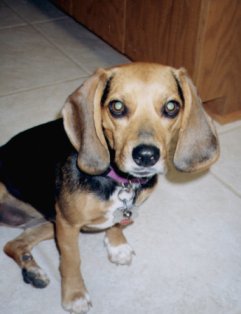 That is about all I know right now. I will try to keep you filled in as we get new pictures, so come back and visit my page again.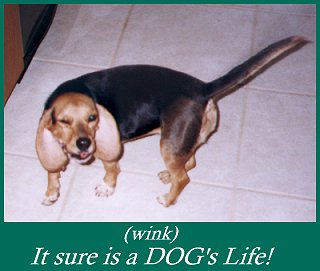 Family Webpages:
If you would like to learn more about adopting your own puppy from a shelter, please email my mom:


If you would like to see more Miniature Pinschers visit this site: IMPS
To look at beagles like me visit: Beagles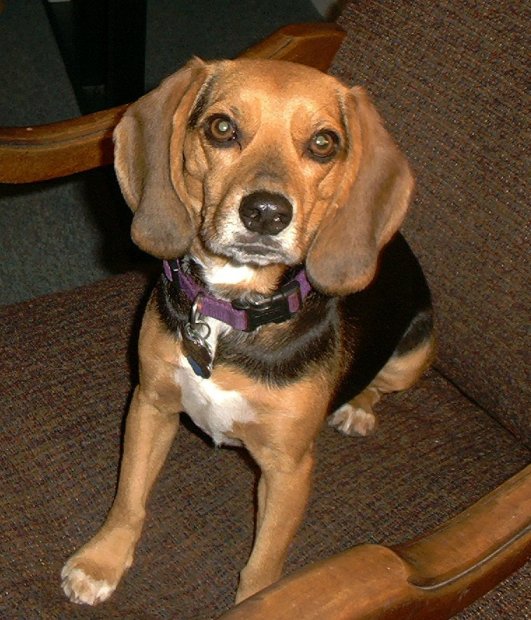 2003
Shiloh is a beauty and loves to pose for the camera.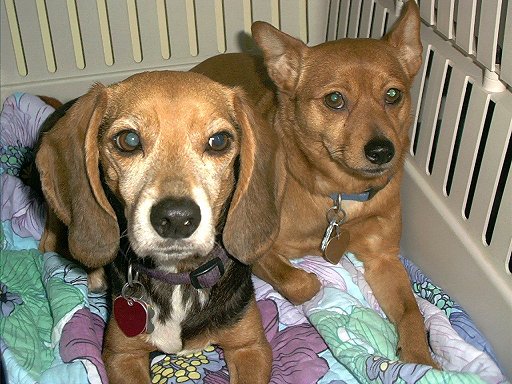 February 2005
Shiloh is getting gray in her face now. She has been diagnosed with degenerative disk desease and arthritis in her hips.
She and ZoŽ are still best friends and often nap together.