Welcome to Pushkin's Dragon Page
Beware, the
Dragons are only pretending to be asleep!

The Dragon is a reptile like creature that
can be found with or without wings.
In legend, it is said that they breath fire,
guard ancient treasures, and dwell in mountain caves.
Depending on the story this creature can be large or small, good or evil,
intelligent or animal-like,
but the thing that all the stories agree
upon is that dragons are magical.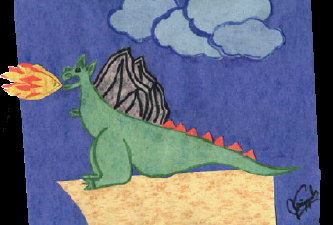 This was created by my niece Jamie!
She is a wonderful artist!!!
Jamie can't think of a name for her dragon,
so please help her.
She is having a "name the dragon"contest.
Click on her dragon and send your ideas to her!
Have you ever seen a Dragon that plays baseball?
Well you have now!
This baseball player was created by Michael when
he was in the third grade!
Visit his very own website by clicking on his picture.
Or, visit the page that I created just for him
Little Boy Wonder



This drawing was done by my friend James.
He is a blossoming young artist!
Isn't the drawing wonderful?
The Dragon's name is, "Keelshat."
Click on the picture to send James a note!
He would love to hear from you!
Tell him you saw "Keelshat" here!!!

David, age 11, submitted three drawings for the Dragon Page.
Here is his favorite!
David named this dragon Steve!!!

David is a very creative young man!
To see David's other two dragons (Bob and Gary), click on the flying dragons.



Here is some advice...

Do not meddle in the affairs of dragons, 'cuz, like, you are
crunchy and taste good with ketchup.




Return to the Garden Index