Our journey takes us to spring,
spring, glorious spring.
Everything comes alive and you find yourself
wanting some mischief.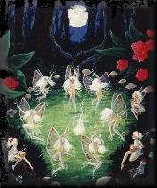 Faeries are creatures of
varied size.
They have insect-like wings and a
love for all things in nature.

At night,
in the spring,
faeries can be seen dancing
in circles within forest clearings.




shhhhh...
...can't you hear their music?
I can!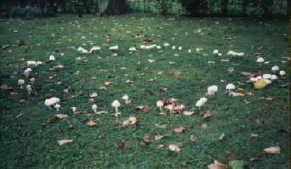 This is a true story and a real photograph of an
ACTUAL "faery ring"
that just appeared
in my yard.


The faeries must have danced in my yard.

After the dance, the faeries left
behind a circle with a rim of dark colored grass.


A few days later, mushrooms grew along
the rim of the circle, where the faeries
had danced.
Gnomes hid beneath the mushrooms
waiting for the faeries to return.



Return they did indeed!!!
The faeries came back again and again.
They will be back again real soon!
Let's wait and see.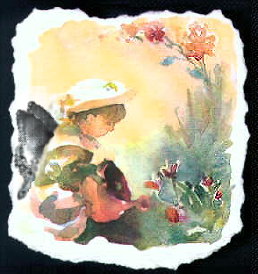 Why
don't we
tend to the
flowers
in the
garden,
while we wait
for the faeries to return?





By the way, that was a water-colour.


Here are some of my graphics.
They began as angels, but with the magic
of my computer,
I turned them into faeries!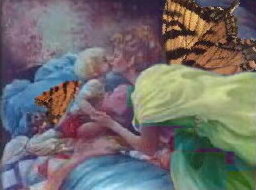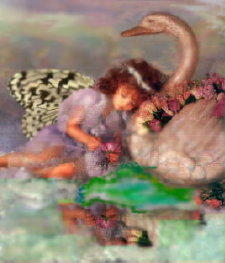 On the following pages,
I will take you to summer and fall,
and on a trip into my rough,
but very "own" sketchbook!
My Summer Sketchbook
My work is done with chalks, watercolor paints,
colored pencils, charcoal, or crayons.
The faeries just mysteriously appear
from lines that I draw!
Then, I scan the drawings.
So, they are "untouched" and primitive.
(Don't I sound like a sensitive artist?
I have to give a disclaimer!)
"My Faerie's Tale" and
The Faerie's Ring are my very own pieces of writing.
You will also find some rare photos of me
at the beginning of the faerie tale!
I am extremely camera shy!


Take a wander around my garden.
Site Index



Please enjoy your stay.
Come again soon.